Night Market
We visited the night market on the 3rd night after we got back from Ha Long Bay. The night market there was nothing compared to the "Pasar Malam" over here in Malaysia. Anyways, some of us still managed to get clothes and souvenirs back there.
"Wen" Education Temple
After having our breakfast in Return Hotel, we headed to "Wen" Temple for a visit, it is said that the scholar from all over China went there to study. Rumors once says that touching the tortoise head inside the temple will bring luck to those who are having exams, I am not that superstitiuos tough......

The "Wen" Temple Gate



Chiew Ling: Make me an "A" Star student

It must be tough reading all those books :(

Tree of Wisdom ???
Tomb of Ho Chi Minh

As we all know Hanoi is the capital of Vietnam , and the tomb of their great Ho Chi Minh lies within the Ho Chi Minh Museum. Unfortunately, we didn't have the chance to visit the museum and take a look at his pretty face...


Tomb of Ho Chi Minh
Military Museum

The weather was sooooo bad that day, we cant even walk our way to the military museum, we have to wait for the rain to stop. We had our lunch at a small noodle stall before making our move to the museum.


Military Tank

Please Don't Kill Me....


Isn't this the cannon used in Metal Gear Solid 4....


Fong: Die!!! you maggots!!!
There is a lot to see in the military museum but we didn't have much time as we had to rush back to the hotel to catch our cab to the Hanoi airport at 4pm. Our flight depart at 7:30pm and arrive in KL around 11:30pm.
Overall, it was a fun and enjoying trip, the only thing I hate most is the bad weather, it was raining like everyday we were in Hanoi.
Black and White
I tried to take some pics in black and white along my trip and I would say I really enjoy taking these photos

Middle of The Sea

Old Lady


Ally of Hanoi

Bazooka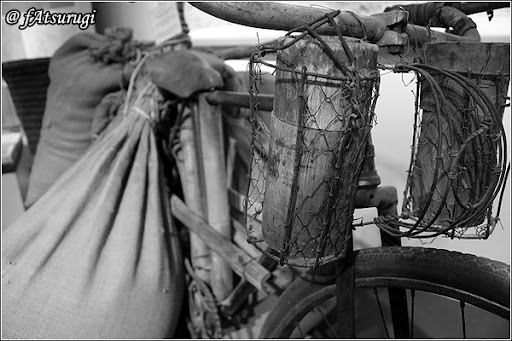 Old Bicycle

Sweet Little Couple