Guys, this is the toy of year 2008!!!, a real gem of all the 12 inch figures !!
For all Malaysians, I am pretty sure that when our local television RTM was showing the show "Baja Hitam" in the 90's , you all will be shouting "Tendangan Padu Maut" !!! "Belalang Tempur"!!!
After nearly 20 years, finally medicom releases its latest 12 inch action figure – RAH 393 – Masked Rider Black.

Box Shot - Medicom RAH 393 - Masked Rider Black

Hen Shin!!
This is simply NOT a toy for the youngsters, it nearly cost me a bomb and I may have to start makan roti next month …hahahahaha….
Head Shot and Rider Belt
Check out the details of Black's head, the eyes are crafted in superb details showing the beautiful compound eyes of a grasshopper.
Rider belt is the most important part, the evil organization –Gorgom inserted one of the two century stone into Kotaro Minami body transforming him into masked rider Black. The other century stone was given to Kotaro's twin brother who eventually becomes Shadowmoon.
Rider Actions!!

Koi!! Gorgom!!

I will show you the century power!!



I am Masked Rider Black!!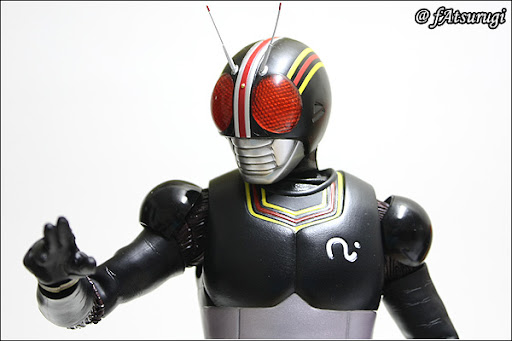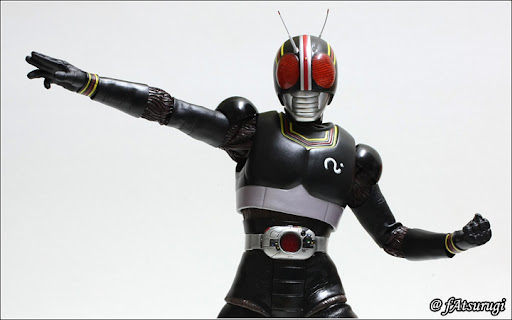 Let me show you the power of Black!!!



Hehe, I learned this pose from Den-O...


Posing with Black was a lot of fun, the articulation of the body was so surreal. You can do a bunch of action poses without even have to scare of breaking it, anyway for a toy that is so expensive I would advise to be more carefull when you are trying some unique posing, better be safe than sorry.

Battle Hopper

Kotaro Minami escaped from the evil organization - Gorgom with the help from Battle Hopper, his most loyal comrade. Battle Hopper is not just an ordinary bike, it cares for its master and even sacrifices to protect them. Battle Hopper was originally designed for the next century king.



Battle Hopper
Let's Ride

Come over , Battle Hopper!!

Hopper: I will protect you, Black!!



Ikuzou!!! Hopper!!!

Taa!!!!!



Hopper!!!
I would give Medicom RAH Black a 5/5, its just the best toy that I have ever collected, although the price is abit expensive but I still think it is worth every single cent of my money spent.